02.01.2020 | Methodologies and Application | Ausgabe 16/2020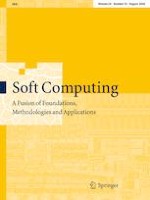 Color harmony algorithm: an art-inspired metaheuristic for mathematical function optimization
Zeitschrift:
Autoren:

Mohammad Zaeimi, Ali Ghoddosian
Wichtige Hinweise
Publisher's Note
Springer Nature remains neutral with regard to jurisdictional claims in published maps and institutional affiliations.
Abstract
In the last 3 decades, metaheuristic algorithms have received more popularity because of their superior performance to solve large and complex optimization problems. Most of these algorithms are inspired by biological phenomena, social behavior of animals, science and art. Among these four sources, the last one is utilized only by one algorithm. In this paper, we propose another novel art-inspired population-based metaheuristic, called color harmony algorithm (CHA), for solving the global optimization problems. The proposed method models its search behavior through combining harmonic colors based on their relative positions around the hue circle in the Munsell color system and harmonic templates. We utilize simultaneously four different fitness information to construct the hue groups, which improve search ability of the algorithm. CHA has two different phases including the concentration phase and the dispersion phase which are employed to explore and exploit the search space. The performance of the proposed method has been examined using several benchmark test functions commonly used in the literature. To show the effectiveness and robustness of the proposed method, the results are compared with those obtained using ten well-known metaheuristic algorithms. Also, the Wilcoxon Signed-Rank test is conducted to measure the pair-wise statistical performances of the algorithms. The results indicate that besides the simplicity of the proposed algorithm, CHA can outperform the other considered algorithms in terms of the convergence speed and the number of function evaluations.