01.08.2016 | Ausgabe 8/2016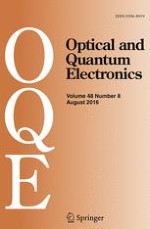 Colorectal cancer stage evaluation using synchronous fluorescence spectroscopy technique
Zeitschrift:
Autoren:

Ts. Genova, E. Borisova, Al. Zhelyazkova, N. Penkov, B. Vladimirov, I. Terziev, O. Semyachkina-Glushkovskaya, L. Avramov
Wichtige Hinweise
This article is part of the Topical Collection on Advances in the Science of Light.
Guest edited by Jelena Radovanovic, Milutin Stepic, Mikhail Sumetsky, Mauro Pereira and Dragan Indjin.
Abstract
In our study we investigate the characteristic differences, with diagnostic meaning, in the synchronous fluorescence spectra (SFS) of cancerous and healthy colorectal tissues, ex vivo. The main observed fluorophores which fluorescence has a diagnostic meaning are tyrosine, tryptophan, NADH, FAD, collagen, elastin, and porphyrines. In the SFS of three colorectal tumours and healthy tissue originated from one patient we observed the formation of alterations in the fluorescence, which can be addressed to specific dysplastic changes in the tissues and could be used for tumour stage evaluation.