01.04.2014 | Ausgabe 1/2014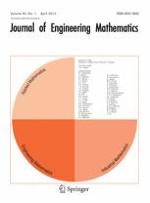 Combined influence of throughflow and Soret effect on the onset of Marangoni convection
Zeitschrift:
Autoren:

S. Saravanan, T. Sivakumar
Abstract
The onset of Marangoni convection with throughflow and the Soret effect in a top-free and bottom-rigid horizontal fluid layer is studied using the normal mode method for different types of thermal and solutal boundary combinations. The bottom surface is either conducting or insulating to temperature and solute concentration perturbations. The resulting eigenvalue problem is solved exactly by assuming that stationary convection is exhibited at the neutral state. It is found that the destabilizing behavior of a small amount of throughflow described by Nield (J Fluid Mech 185:353–360,
1987
) becomes more significant in the presence of Soret effect for some boundary combinations. The results are consistent with the existing results in the literature.