30.12.2016 | Original Contribution | Ausgabe 2/2017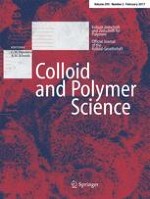 Combined "post-infiltration, subsequent photochemical cross-linking" and "cross-linking and selective etching" strategies to fabricate nanoporous layer-by-layer assembled multilayers
Zeitschrift:
Autoren:

Heng Du, Yajun Zhang, Shanshan Lv
Abstract
This study reports a new method combining a "post-infiltration, subsequent photochemical cross-linking" strategy and a "cross-linking and selective etching" approach to fabricate porous multilayers incorporating weak polyelectrolytes poly(allylamine hydrochloride) (PAH), polyethyleneimine (PEI), and poly(sodium-
p
-styrenesulfonate) (PSS). The multilayer film is fabricated by layer-by-layer (LbL) assembly of a blend of PAH and PEI in alternation with PSS to construct a composite multilayer film as a precursor. Then, 4,4′-diazido-2,2′-stilbenedisulfonic acid disodium (DAS) is infiltrated into the multilayer films, and subsequent photochemical cross-linking is applied under UV irradiation. By taking advantage of the differences between PAH/PSS and PEI/PSS, the multilayer films are immersed into a basic solution to selectively dissolve PEI. UV-visible spectroscopy, atomic force microscopy and cyclic voltammogram characterization results prove formation of nanoporous structures in the LbL assembled multilayer films. This novel way to fabricate porous films is anticipated to have potential applications in polymer and interface science.