2011 | OriginalPaper | Buchkapitel
16. Combined Voltage-Clamp and Atomic Force Microscope for the Study of Membrane Electromechanics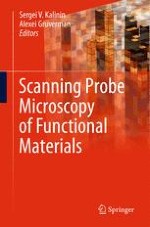 Erstes Kapitel lesen
Autoren: Arthur Beyder, Frederick Sachs
Verlag: Springer New York
Abstract
Electromechanical and mechanoelectrical transduction (MEM) by membranes are general properties and that have probably been utilized by evolution in the design of sensors. To obtain a high-resolution record of MEM with a direct recording of movement, we combined a voltage-clamp and an atomic force microscope (VC-AFM). We measured the voltage-induced movement of membranes of wild-type cultured human embryonic kidney cells (wtHEK) and those transfected with voltage-gated potassium selective channels of the Shaker family (ShHEK). The presence of the channels introduced a striking asymmetry into the MEM that probably reflects shape changes during gating.
Membranes of wtHEK cells move outward, linearly with voltage, in the physiologic voltage range and the change in force also scaled linearly with the set force. However, when HEK cells were transfected with Shaker channels (ShHEK), the membranes showed a pronounced saturation of MEM in the voltage range of channel opening. The saturation was not caused by ion fluxes because saturation was independent of the current. The onset of saturation was correlated with channel opening and not voltage sensing. We tested this dependence with the IL mutant where voltage sensing and channel opening occurs at distinctly different voltages. This nonlinearity changed with time and relaxed to background MEM after about 20 msec. There proved to be few models of the saturation that could incorporate all the constraints posed by the data, notably a channels density of ∼ 1 per μm2, but we could explain the data if channel opening splays the interior half of the channel and generates torque that causes buckling of the local membrane.
These experiments demonstrate the feasibility of VC-AFM for time resolved measurement of MEM in biological systems at atomic resolution (∼ 1 kHz & and 0.1 nm) primarily through the use of ensemble averaging. We discuss some of the experimental problems and their solutions, and provide guidance for advancing the technique.