2017 | OriginalPaper | Buchkapitel
Combining Vicarious and Enactive Training in IS: Does Order Matter?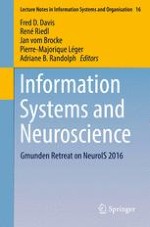 Erstes Kapitel lesen
Autoren: Félix G. Lafontaine, Pierre-Majorique Léger, Élise Labonté-LeMoyne, Patrick Charland, Paul Cronan
Abstract
The objective of the article is to provide empirical support for curriculum development to instructors using enactive learning in IS. Specifically, we are interested in understanding which instructional design, combining enactive and vicarious learning, leads to the most effective learning achievement and development of self-efficacy. Specifically, we compare two different training sequences to determine which is the best combination of the two instructional designs (vicarious/enactive) to train people in using business dashboards efficiently. In a controlled lab environment, we collected (1) behavioral data (performance, software interactions) (2) oculometric data and (3) self-assessed self-efficacy data to assess the learning processes and strategies. Our results show that providing the vicarious training first when using a combination of enactive and vicarious learning leads to a higher self-efficacy increase. It also has a significant impact on the attentional efficiency of students using dashboards in a business setting.