2018 | OriginalPaper | Buchkapitel
3. Come On! Join Us on an Exciting Journey Towards a Sustainable World!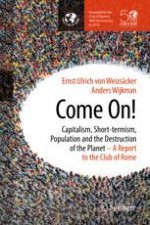 Erstes Kapitel lesen
Autoren: Ernst Ulrich von Weizsäcker, Anders Wijkman
Verlag: Springer New York
Abstract
Humanity is racing with catastrophe. Total system collapse is a real possibility. The evidence of human impact on the planet is undeniable. Radioactive residue of atmospheric testing is now found in geologic deposits. Human releases of CO2 from fossil fuel combustion have changed atmospheric and oceanic chemistry. So let's not kid ourselves: We face a daunting array of challenges driven by a still rapidly growing population, overuse of resources and the resulting pollution, loss of biodiversity and the declining availability of life support systems.