2020 | OriginalPaper | Buchkapitel
Communicative Strategies of Russian Politicians on Social Networking Site Vkontakte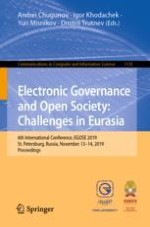 Erstes Kapitel lesen
Autoren: Konstantin Platonov, Natalia Legostaeva
Abstract
The problem of elaboration of effective publication strategies of social media presence was not thoroughly studied in the context of Russian political communication. At the same time, this communication channel is becoming increasingly important on both Federal and regional levels as this exact channel provides broad opportunities related to communication with the audience, recruitment of new participants and receiving feedback. Based on the audience requests, politicians and press relations services build specific strategies of media presence, which could differ significantly in terms of its content and targeting.
In this research, we conduct a comparative analysis of publication strategies used by politicians of different levels on their social network accounts. Qualitative analysis is applied to the content of the posts. We use taxonomy based on definition of the key topics highlighted by every political leader and text orientation: informing, persuasion, mobilizing or interacting.
We also consider technical characteristics of strategies, such as use of video materials or external links in the posts. In order to evaluate the participation effect, we used metrics such as likes, comments and audience engagement rate. Data consolidation helped us to conclude that accounts of pro-government political leaders operate more in the informing mode and opposition use varied communicative models: informing, persuasion, and interaction in different combinations and in general are more "ingenious" in terms of content production.
The research presents the variety of communicative strategies used by Russian politicians in social networks.