2019 | OriginalPaper | Buchkapitel
Community Development by De-silting the Aswan High Dam Reservoir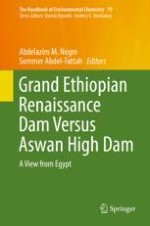 Erstes Kapitel lesen
Autor: Baha E. Abulnaga
Abstract
Siltation of man-made reservoirs on the Nile is a very ancient problem dating back to Lake Moeris built more than 4,000 years ago in the Fayum area, in Middle Egypt. While this engineering work functioned trouble-free for 1,500 years until the Ptolemeans closed down some of the canals to dry out the shores and convert them to farmlands, modern problems following the construction of new reservoirs in the twentieth and twenty-first century suffer from rapid deterioration on a large scale. It is estimated that the Blue Nile transports 207 million cubic meters of sediments a year on the average, but most will now be retained by the GERD.
De-silting the large reservoirs of the Nile such as the Roseires, Sennar, Girba, and the Aswan High Dam, and in the future the GERD, should be done at the national and international levels through government- and private sector-sponsored programs. These programs can also offset the loss of reservoir capacity, increased evaporation losses due to the reduction of the surface to volume ratio, accumulation of weeds, and loss of hydroelectric power production due to sedimentation.
A careful analysis of the sediments in Lake Nasser with a preponderance of plastic clays reveals a sensitivity to potential dredging. The plasticity indices satisfy the conditions for the formation of balls of clays that would slow down dredging. It is therefore critical for Egyptian engineers to develop the technology for pulverizing the plastic clays when cutting them. Egypt can also become a platform for the development of technologies for de-silting the various reservoirs in Sudan and for training Sudanese engineers. Ultimately these efforts can lead to the development of small communities. The construction of a fleet of 80 dredgers with a minimum number of 240 booster pump stations and slurry pipelines averaging 5 km from the reservoir to the shores would be needed to dredge 100 million cubic meters each year and gradually restore the storage capacity of the various reservoirs. This effort would emulate the COAST 2050 project carried out in the USA in 2000 and the 2010s at more than US$15 billion.