01.04.2009 | Original Paper | Ausgabe 4/2009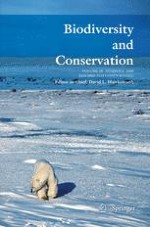 Community involvement in management for maintaining coral reef resilience and biodiversity in southern Caribbean marine protected areas
Zeitschrift:
Autoren:

Carolina Camargo, Jorge H. Maldonado, Elvira Alvarado, Rocío Moreno-Sánchez, Sandra Mendoza, Nelson Manrique, Andrés Mogollón, Juan D. Osorio, Alejandro Grajales, Juan Armando Sánchez
Abstract
Climate change is posing new challenges to conservation because management policies on protected coral reefs are less effective than they were before the current ecosystem degradation. Coral reefs, the most diverse and complex marine ecosystem provide economic services for millions, but are seriously threatened worldwide because reef-building corals are experiencing bleaching phenomena and a steady decline in abundance. The resources of a Marine Protected Area (MPA) in Cartagena, Colombia, are in constant decline, despite a current management plan and on-site staff, urging new conservation actions. A multidisciplinary team gathered to evaluate management effectiveness including biophysical, socioeconomic and governance indicators. Coral cover and fish diversity and abundance were low both inside and outside the MPA, which suggests a limited efficiency of management. Currently, the MPA is a reef with low coral cover and high algae cover as well as large dead coral areas, which are generally signs of highly degraded reef habitats. Live coral cover in the MPA was represented by pioneer coral species such as
Agaricia tenuifolia
and
Porites astreoides
. Nonetheless, 35% of the scleractinian species sampled in the area harbored more than one zooxanthellae symbiont, which suggests potential resistance and resilience against coral bleaching. Maintenance of trophic structure and functional diversity is an important endeavor that should be a priority for management in order to allow ecosystem resilience. Social and governance indicators showed low-income levels and few opportunities for communities living in and around the park, low governability, weak communication among stakeholders and with authorities at different levels. As a result, problems related to over exploitation of resources were commonplace in the MPA. These results reflect low adaptive capacity of communities to comply with restrictive conservation rules, showing that establishment of a protected area is a necessary but insufficient condition to guarantee conservation goals. Ignoring the role of local communities only will exacerbate the problems associated with natural resources. Involvement of communities in strategic ecosystems management appears to be a requisite to improve effectiveness of protected areas, and participatory strategies, such as co-management, offer opportunities to improve governability while letting communities adapt to MPA needs.