01.02.2011 | Original | Ausgabe 1/2011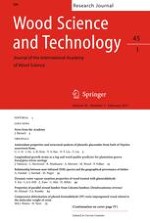 Comparative analysis of a wood: adhesive bondline
Zeitschrift:
Autoren:

G. Modzel, F. A. Kamke, F. De Carlo
Abstract
The wood–adhesive interface was analyzed using five methods with the objective of quantitatively assessing penetration of adhesive into the porous wood network. Methods included fluorescence microscopy, scanning electron microscopy, backscatter electron imaging, wavelength dispersive spectroscopy, and X-ray microtomography (XMT). Each method provided a visual inspection, and all of the analysis methods were applied to the same field of view. XMT was the primary technique of interest. Rubidium hydroxide was used in place of sodium hydroxide in the formulation of phenol–formaldehyde adhesive. Rubidium was found to increase the X-ray attenuation of the adhesive. However, rubidium migrated beyond the adhesive interphase during specimen preparation, thus reducing its effectiveness for image contrast enhancement. The wood species studied included red oak (
Quercus rubra
), Douglas-fir (
Pseudotsuga menziesii
), and hybrid poplar (
Populus deltoides
×
Populus trichocarpa
). All techniques used for this study were useful, but each presented some limitations for bondline analysis. Despite the problem with rubidium migration, XMT for this application was promising.