13.08.2019 | Ausgabe 3/2019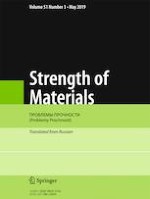 Comparative Analysis of Processing Techniques' Effect on the Strength of Carbon Black (N220)-Filled Poly (Lactic Acid) Composites
Zeitschrift:
Autoren:

A. V. Rane, K. Kanny, A. Mathew, T. P. Mohan, S. Thomas
Wichtige Hinweise
Translated from Problemy Prochnosti, No. 3, pp. 182 – 200, May – June, 2019.
Carbon black (CB)-filled polylactic acid (PLA) composites attract a significant interest due to their superior structural and functional performances. Properties of CB-filled PLA composites depend on physical and chemical interactions in them. In this study, interactions within CB (N220)-filled PLA composites as a function of processing method, filler concentration, and their effect on mechanical properties are investigated via mechanical tests. Strong interface interaction at intermediate concentration of 2.5 wt.% CB with PLA was confirmed through mechanical tests. Moreover, a 2.5 wt.% of CB-formed networks within PLA composites, which added the fracture resistance in the weaker phase, thereby improving their mechanical properties. Beyond 2.5 wt.%, a linked skeletal grid was formed, enhancing the fracture path in a weaker phase and deteriorating the mechanical properties. Experimental results on density and elastic modulus were compared with the theoretical model predictions. This study gives an insight on interactions controlling physical and mechanical properties related to various processing techniques and weight percent of CB in PLA composites.