2019 | OriginalPaper | Buchkapitel
Comparative Analysis of Subjective Workload in Laparoscopy and Open Surgery Using NASA-TLX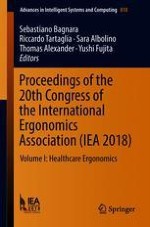 Erstes Kapitel lesen
Autoren: Giovanni Miranda, Mario Casmiro, Giorgio Cavassi, Riccardo Naspetti, Egidio Miranda, Riccardo Sacchetti, Emanuele Dabizzi, Rosario Tranchino
Abstract
Background: The mental resources required by laparoscopy (LS) and open (OS) surgery may be different; if this hypothesis is correct, the analysis of subjective total workload (STW) could allow to identify the causes of such differences and reduce the risk of error.
Objective: We tested the hypothesis that STW is different between LS and OS.
Methods: The NASA-TLX questionnaire was self-administered by trained physicians at the end of each procedure; STW was calculated using NASA-TLX software.
Results: Fourteen surgeons performed 66 LS and 48 OS procedures. The OS group showed a higher STW. Sub-item analysis showed higher temporal demand and frustration values in the OS group. In both groups STW was not normally distributed, showing a high (HWS) and a low (LWS) STW subgroup; the HWS within the LS group exhibited a higher mental and physical demand.
Conclusions: NASA-TLX is a valuable tool for assessing STW in the surgical setting. Higher STW was observed in the OS group, possibly related to a longer duration of such procedures and a greater experience of the "open surgeons". These results should be viewed with caution because of potentially confounding variables; larger studies will be required to identify STW determinants among different surgical groups.