01.12.2009 | Original Paper | Ausgabe 3/2009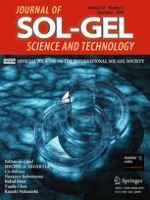 Comparative characterisation of zinc oxide thin films prepared from zinc acetate with or without water of hydration via the sol–gel method
Zeitschrift:
Autoren:

Mehmet Çopuroğlu, Lee Huat Kelly Koh, Shane O'Brien, Gabriel M. Crean
Abstract
Zinc oxide thin films were prepared using either zinc acetate dihydrate or anhydrous zinc acetate via the sol–gel method. Comparative characterisation of the crystallographical, morphological, optical/spectroscopical and electrical properties of the so-obtained films was performed. The idea of one- (in the case of the anhydrous precursor), and two- (in the other case) stage hydrolysis/condensation was postulated, which was supported by the characterisation results. The film prepared using the anhydrous precursor had a more pronounced
c
-axis crystal orientation preference, with a larger average crystallite size and more porous morphology. The transparency of this film was significantly lower over the UV/visible region due to its more porous morphology, which also resulted in lower intensity of the 'near band edge emission', and higher electrical resistivity. The overall results also suggested that anhydrous zinc acetate could be employed as a precursor for the sol–gel synthesis of zinc oxide thin films, which might have potential advantages in microelectronic and optoelectronic applications.