10.01.2019 | Ausgabe 3/2019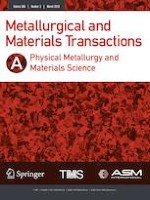 Comparative Corrosion Behavior of Five Microstructures (Pearlite, Bainite, Spheroidized, Martensite, and Tempered Martensite) Made from a High Carbon Steel
Zeitschrift:
Autoren:

Prvan Kumar Katiyar, S. Misra, K. Mondal
Wichtige Hinweise
Manuscript submitted March 1, 2018.
Abstract
The present work discusses the comparative corrosion behavior of five microstructures of steels, namely, pearlite, bainite, spheroidized, martensite, and tempered martensite, which have been processed, respectively, by air cooling, isothermal transformation, spheroidizing, quenching, and tempering of a steel with composition 0.70C, 0.24Si, 1.12Mn, 0.026P, 0.021S, 0.013Nb, 0.0725Ta, and 97.7Fe (all are in wt pct). Dynamic polarization and alternating current (AC) impedance spectroscopic tests in freely aerated 3.5 pct NaCl solution show that the corrosion resistance of the steel specimens consisting of the preceding five microstructures decreases in the following sequence: pearlitic – bainitic – spheroidized – martensitic – tempered martensitic steels. The variation in the corrosion rate has been attributed to the shape, size, and distribution of the ferrite and cementite.