01.06.2015 | Original Paper | Ausgabe 3/2015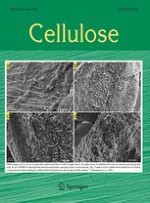 Comparative evaluation of the action of two different endoglucanases. Part II: On a biobleached acid sulphite pulp
Zeitschrift:
Autoren:

Elisabet Quintana, Cristina Valls, Teresa Vidal, M. Blanca Roncero
Abstract
A TCF sulphite pulp, bleached at the laboratory scale with a laccase–violuric acid system and complemented with a pressurized hydrogen peroxide stage, was treated with two endoglucanases, one obtained from
Paenibacillus barcinonensis
(B) and the other one produced from
Cerrena unicolor
(F) to improve cellulose reactivity. The treated pulps were evaluated in terms of brightness, viscosity, α-cellulose, water retention value, fibre morphology, Fock solubility, NMR and carbohydrate composition of pulps and liquors. Results revealed that both endoglucanases improved cellulose reactivity, albeit in a different way; thus, B caused no scissions in the cellulose chain and no significant reduction in fibre length, whereas F decreased viscosity and shortened fibre length, leading to lower reactivity value. The liquor composition of soluble carbohydrates released by the enzymatic treatments revealed the B had a processive mode of action since short oligosaccharides, cellobiose and glucose, were obtained. F hydrolysed, from high to low concentration, cellobiose, glucose and cellotriose. Importantly, environmentally friendly dissolving pulp with 90 % Fock solubility was obtained, combining two enzymatic treatments: a laccase–mediator system and then a cellulase from
P. barcinonensis
(B). In order to improve the quality of final dissolving pulp, a pulp purification step was introduced before the B endoglucanase treatment. The cold caustic extraction lead to reduce the amount of hemicelluloses by 42 % with respect to biobleached pulp, but Fock solubility was also reduced. However, complementing the purification step with F treatment, reduced the amount of hemicelluloses but also improved Fock solubility by 17 %, although some presence of cellulose II was detected by NMR.