12.01.2018 | Original Paper | Ausgabe 2/2018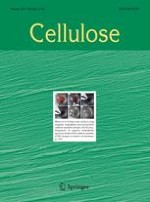 Comparative study of cellulosic components isolated from different Eucalyptus species
Zeitschrift:
Autoren:

Isabel Carrillo, Regis Teixeira Mendonça, Mariko Ago, Orlando J. Rojas
Abstract
Seven selected Eucalyptus varieties grown under the same conditions were collected to investigate the relationships between specie type and cellulose composition as well as structural and thermo-chemical properties. This systematic investigation used
E. badjensis
,
E. benthamii
,
E. dunnii
,
E. globulus
,
E. nitens
,
E. smithii
and two hybrids,
E. nitens
×
E. globulus
, from which holocellulose and alpha-cellulose were isolated. The results indicated no significant correlation between the molecular fingerprints and higher order structural features (crystallinity via X-ray diffraction, CrI XRD). Compared to the cellulosic source, the same techniques revealed higher CrI for the isolated holocellulose. The opposite applied to the CrI of alpha-cellulose. CrI spanned the range between 39 and 55%, and crystallite sizes spanned 1.8–4.4 nm range. The cellulose from the Eucalyptus samples displayed distinctive chemical fingerprints and thermal degradation (thermogravimetric analysis, TGA), the latter of which occurred in a wide range of temperature, between 338 and 369 °C. Most remarkably, a significant correlation was observed between CrI XRD and TGA from the wood samples. Moreover, the thermal degradation of alpha-cellulose correlated strongly with the crystallite size. In wood and holocellulose samples,
E. badjensis
and
E. smithii
showed the lowest CrI and thermal degradation of cellulose, while
En
×
Eg
hybrids showed the highest values. Alpha-cellulose from
E. dunni
underwent the highest thermal degradation and
E. smithii
displayed the highest CrI. Such differences are expected to be relevant to the processing and quality of cellulose derivatives, a subject that is yet to be evaluated.