01.04.2014 | Ausgabe 2/2014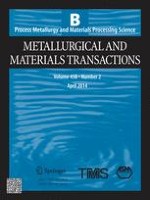 Comparative Study on Failure Prediction in Warm Forming Processes of Mg Alloy Sheet by the FEM and Ductile Fracture Criteria
Zeitschrift:
Autoren:

Sang-Woo Kim, Young-Seon Lee
Wichtige Hinweise
Manuscript submitted January 24, 2013.
Abstract
An important concern in metal forming is whether the desired deformation can be accomplished without any failure of the material, even at elevated temperatures. This paper describes the utilization of ductile fracture criteria in conjunction with the finite element (FE) method for predicting the onset of fracture in warm metal working processes of magnesium alloy sheets. The uniaxial tensile tests of AZ31 alloy sheets with a thickness of 3 mm and FE simulations were performed to calculate the critical damage values for three kinds of ductile fracture criteria. The critical damage values for each criterion were expressed as the function of strain rate at various temperatures. In order to find out the best criterion for failure prediction, Erichsen cupping tests under isothermal conditions were carried out at various temperatures and punch velocities. Based on the plastic deformation histories obtained from FE analysis of the Erichsen cupping tests and the critical damage value curves, the initiation time and location of fracture were predicted under bi-axial tensile conditions. As a result, Cockcroft–Latham's criterion showed good agreement with the experiments.