2016 | OriginalPaper | Buchkapitel
Comparing ACO Approaches in Epilepsy Seizures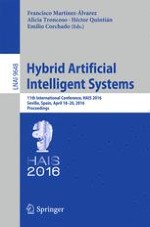 Erstes Kapitel lesen
Autoren: Paula Vergara, José R. Villar, Enrique de la Cal, Manuel Menéndez, Javier Sedano
Abstract
Epilepsy is a neurological illness causing disturbances in the nervous system. In recent studies, a wearable device has been developed and a Hybrid Artificial Intelligent System has been proposed for enhancing the anamnesis in the case of new patients or patients with severe convulsions. Among the different Artificial Intelligent techniques that have been proposed during the last years for Epilepsy Convulsions Identification (ECI), Ant Colony Optimization (ACO) has been found as one of the most efficient alternatives in order to learn Fuzzy Rule Based Classifiers (FRBC) to tackle with this problem.
This study proposes the comparative of two different ACO based learning strategies: the Pittsburg FRBC learning by means of Ant Colony Systems (ACS) and the Michigan FRBC learning using the Ant-Miner+ algorithm. Different alternatives for both strategies are also analyzed.
The obtained results show the Pittsburg ACS learning as a very promising solution for mio-clonic ECI. The Ant-Miner+ based Michigan strategy doesn't perform well for this research, which is mainly due to the reduced number of features considered in the experimentation.