01.10.2019 | Ausgabe 10/2019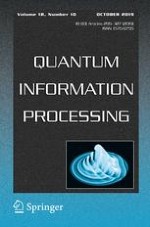 Comparing coherence measures for
X

states: Can quantum states be ordered based on quantum coherence?
Zeitschrift:
Autoren:

Sandeep Mishra, Kishore Thapliyal, Anirban Pathak, Anu Venugopalan
Wichtige Hinweise
Publisher's Note
Springer Nature remains neutral with regard to jurisdictional claims in published maps and institutional affiliations.
Abstract
Quantum coherence is an essential resource for quantum information processing and various quantitative measures of it have been introduced. However, the interconnections between these measures are not yet understood properly. Here, using a large set of randomly prepared two-qubit
X
states (as well as general two-qubit states) and analytically obtained expressions of various measures of coherence (e.g., relative entropy of coherence,
l
1 norm of coherence, coherence via skew information, and first-order coherence), it is established that these measures of quantum coherence cannot be used to perform ordering of a set of quantum states based on the amount of coherence present in a state. Further, it is shown that for a given value of quantum coherence measured by the relative entropy of coherence, maximally nonlocal mixed states of
X
type [which are characterized by the maximal violation of the Clauser–Horne–Shimony–Holt (CHSH) inequality] have maximum quantum coherence as measured by
l
1 norm of coherence. In addition, the amount of coherence measured by
l
1 norm of coherence for a Werner state is found to be always less than that for a maximally nonlocal mixed state even when they possess an equal amount of coherence measured by the relative entropy of coherence. In our study, we have also explored the connection between the above resource theory-based measures of coherence and the recently introduced first-order coherence and maximum first-order coherence measures for two-qubit systems. We find that while there seems to be no obvious connection between the resource theory-based measures and first-order and maximum first-order coherence, a correlation seems to exist between the maximum first-order coherence and concurrence, both of which are basis independent quantities. These observations could be of use in obtaining a deeper understanding of the interconnections between various measures of quantum coherence.