01.02.2013 | Ausgabe 2/2013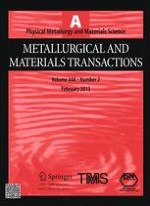 Comparison in the Oxidation and Corrosion Behavior of Aluminum and Alumina-Reinforced Ni/Ni-Co Alloy Coatings
Zeitschrift:
Autoren:

Meenu Srivastava, J. N. Balaraju, B. Ravisankar, V. K. William Grips
Wichtige Hinweise
Manuscript submitted March 6, 2012.
Abstract
In this study, a comparison in the oxidation and corrosion behavior of Ni/Ni-Co aluminum and alumina-reinforced electrodeposited composites has been made. The developed coatings were characterized for the morphology, structure, microhardness, oxidation, and corrosion resistance. It was found that the incorporation of Al particles in NiCo matrix is higher (9 wt pct) compared to Ni matrix (1 wt pct). In the case of aluminum oxide particles, about 5 and 7 wt pct had been obtained in Ni and NiCo matrices respectively. The difference in the surface morphology was observed with respect to metallic (Al) and inert ceramic (Al2O3) particle incorporation. X-ray diffraction studies showed the presence of predominant Ni (200) reflection in the coatings. Also, peaks corresponding to Al and Al2O3 particles were present. The Ni/NiCo-Al coatings exhibited higher microhardness values at 1273 K (1000 °C) compared to alumina-reinforced coatings, indicating better thermal stability of the former coatings. The NiAl coating showed one and two orders of magnitude improved oxidation resistance compared to NiCoAl and Ni/NiCo-Al2O3 coatings, respectively. It was observed that the Ni-Al composite coating exhibited poor corrosion resistance in 3.5 pct NaCl solution compared to the other coatings studied.