01.12.2016 | Original Paper | Ausgabe 1/2016 Open Access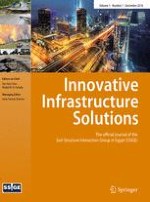 Comparison of different rheological parameters for rutting susceptibility of SBS + WMA modified binders
Zeitschrift:
Autoren:

Dharamveer Singh, Aniket V. Kataware
Abstract
It is important to understand rutting susceptibility of asphalt binders at laboratory scale to ensure a long lasting pavement. Researchers have reported applicability of four rheological parameters: (1) Superpave parameter—
G
*/sin
δ
(2) Shenoy's parameter—
G
*/(1−(1/tan
δ
sin
δ
)), (3) non-recoverable creep compliance—
J
nr
, measured from multiple stress creep recovery test and (4) zero shear viscosity (ZSV) to evaluate rutting resistance of binders. However, comparison of these rutting parameters for warm mix additives (WMA) modified asphalt binders have not been reported in open literature. Thus, this study was undertaken to evaluate rutting performance of a SBS co-polymer modified binder (PMB40) containing three WMA additives using four rheological parameters listed above. Three different WMA additives: wax based (Sasobit
®
), water based (Advera
®
) and surfactant based (Rediset
®
) were selected in this study. Based on three parameters (Superpave, Shenoy and
J
nr
), it was found that addition of Sasobit
®
and Advera
®
help to improve rut resistance of PMB40 binder while Rediset
®
decreases rut resistance of the binder. The ZSV showed rut resistance improvement for all the additives, which is contrary to the results obtained from other three parameters. Both the Superpave and Shenoy parameters showed a similar trend in rutting resistance of the binder. The optimum dosage of Advera
®
and Sasobit
®
was determined based on the Superpave, Shenoy and
J
nr
parameters. Since, the addition of Rediset
®
resulted in decrease in rutting behavior, optimum dosage of Rediset
®
could not be ascertained. A good correlation was found between the Superpave rutting parameter (
G
*/sin
δ
) and other three parameters (
G
*/(1 − (1/tan
δ
sin
δ
)), ZSV, and
J
nr
). The outcome of this study showed that,
J
nr
may be considered as a reliable rut parameter due to realistic test conditions associated with it. The Superpave parameter is more conservative compared to Shenoy parameter, and thus it may still be considered as an important rutting parameter in the absence of
J
nr
. The ZSV needs further validation to comment on its applicability.