10.09.2015 | Ausgabe 4/2016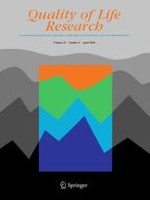 Comparison of interactive voice response (IVR) with paper administration of instruments to assess functional status, sexual function, and quality of life in elderly men
Zeitschrift:
Autoren:

Raymond C. Rosen, Alisa J. Stephens-Shields, Glenn R. Cunningham, Denise Cifelli, David Cella, John T. Farrar, Elizabeth Barrett-Connor, Cora E. Lewis, Marco Pahor, Xiaoling Hou, Peter J. Snyder
Abstract
Purpose
Patient-reported outcome (PRO) measures are essential for assessing subjective patient experiences. Interactive voice response (IVR) data collection provides advantages for clinical trial design by standardizing and centralizing the assessment. Prior to adoption of IVR as a mode of PRO administration in the Testosterone Trials (TTrials), we compared IVR to paper versions of the instruments to be used.
Methods
IVR versions of the FACIT-Fatigue scale and Psychosexual Daily Questionnaire, Question 4, were developed. In one pilot study, IVR versions of these scales were compared to paper versions in 25 men ≥ 65 years at each of two clinical sites. In another study, IVR versions of the SF-36 Vitality Scale (SF-36), Positive and Negative Affect Scale, and Patient Health Questionnaire were evaluated in comparison with previously validated paper versions in 25 men at two clinical sites. Both paper and IVR versions of each instrument were administered in counterbalanced order, and test–retest reliability was evaluated by repeated administration of the test. Bland–Altman plots were used to assess the degree of agreement. Test–retest correlations for each measure were also determined.
Results
Satisfactory agreement was observed between IVR and paper versions of each study measure. Specifically, linear and highly positive associations were observed consistently across the study for IVR and paper versions of all study measures. These ranged from
r
= 0.91–0.99. Test–retest reliability for all measures was acceptable or better (
r
= 0.70–0.90).
Conclusions
The IVR versions of TTrials endpoints in these two studies performed consistently well in comparison with paper versions.