2020 | OriginalPaper | Buchkapitel
Comparison of Rivet Hole Expansion for Protruding Rivets; Universal and with Compensator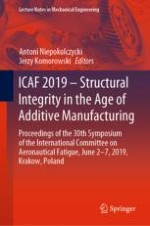 Erstes Kapitel lesen
Autor: Wojciech Wronicz
Abstract
Fatigue is one of the main reasons for airframe failure and cracks initiate often near rivets. Riveting technology influence strongly fatigue of joint. Rivet shank deforms sheets by expanding a hole and, if the force is high, compressive stresses are generated. It is the same phenomena as in cold working which is used to increase a fatigue life of elements with holes. The hole expansion, defined as increase of a hole diameter divided by an initial hole diameter, characterizes the degree of cold working. It can be used to assess a quality of a joint or even to estimate its fatigue life.
The paper presents the numerical analyses of the hole expansion during riveting for two types of rivets, the universal rivet (MS20470) and the brazier rivet with a compensator (Russian branch standard OST 1 34040-79). The compensator is a small protrusion on the rivet head which is pressed into it during installation which results in improved hole expansion and increased fatigue life.
The analyzed joint consists of two 1.5 mm sheets (2024-T3 alloy) and a 4 mm rivet (2117-T4 alloy). FE simulations of quasi-static riveting were performed with axisymmetric models for various force levels.
Results show that hole expansion under the driven head is on the similar level for both types. Under manufactured head, the compensator caused much higher expansion. At the mating surface, which is a critical area for fatigue, expansion is significantly higher also. Moreover, hole expansion is much more uniform along the thickness for this type.
Presented analyses and available results of fatigue tests convince the author that the concept of rivet with a compensator has significant potential to improve fatigue properties of joints practically without increasing costs.