01.04.2015 | Original Paper | Ausgabe 4/2015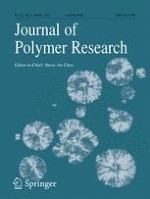 Comparison of silica and novel functionalized silica-based cellulose acetate hybrid membranes in gas permeation study
Zeitschrift:
Autoren:

Fozia T. Minhas, Sarah Farrukh, Arshad Hussain, M. Mujahid
Abstract
Cellulose acetate (CA) is a widely applied glassy polymer in the preparation of gas separation membranes. In the present study, hybrid membranes were prepared by incorporating silica (Si) and silica functionalized with
p
-tetranitrocalix[4]arene (Si-CL) into the CA matrix, and their gas permeation abilities were explored with regard to CO
2
, N
2
and CH
4
gases. The diffusion-induced phase separation (DIPS) method was adopted to make pure CA, CA/Si, and CA/Si-CL hybrid membranes. The concentration of Si-CL was varied as 10 wt%, 20 wt% and 30 wt% in the hybrid membranes. The analytical techniques employed for membrane characterization were Fourier transform infrared spectroscopy (FTIR), scanning electron microscopy (SEM), atomic force microscopy (AFM), and X ray-diffraction (XRD) analysis. The proper interaction of Si and Si-CL was confirmed by FTIR analysis. However, the homogenous surface textures of CA/Si, and CA/Si-CL hybrid membranes were evaluated through SEM. Furthermore, AFM analysis was performed to examine the surface roughness of these hybrid membranes. The changes in the crystallinity of CA were also examined by XRD analysis after adding Si and Si-CL. Moreover, the tensile strength of the CA/Si hybrid membrane was found to be better than that of CA/Si-CL hybrid membranes. CO
2
, CH
4
and N
2
gases were used for gas permeation experiments at 400 kPa. Among CO
2
and CH
4
gases, the permeability of N
2
was high in CA/Si-CL hybrid membranes, and N
2
/CO
2
selectivity of these membranes was 22.6.