2020 | OriginalPaper | Buchkapitel
2. Competition Law in China: An Overview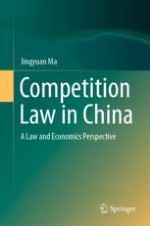 Erstes Kapitel lesen
Autor: Jingyuan Ma
Verlag: Springer Singapore
Abstract
The Anti-monopoly Law of China (the AML) was promulgated in 2007 and came into force in August 2008. The AML has incorporated both economic and non-economic goals, and industrial policy concerns are considered to be predominant. The role of State-owned enterprises and the issue of administrative monopolies has to be understood in the context of market reform and the developments of national industrial policy. The AML followed clear bureaucratic enforcement, and since August 2018, the State Administration for Market Regulation (SAMR) has become the enforcement agency of the AML. The AML is composed of 57 articles in 8 chapters. Chapter
1
provides general provisions, and Chap.
2
(Articles 13–16) deals with monopoly agreements. Chapter
3
(Articles 17–19) covers the abuse of dominant position, and Chap.
4
(Articles 20–31) focuses on concentrations. Chapter
5
(Articles 32–37) deals with administrative monopolies. Chapter
6
is about investigative procedure (Articles 38–45). Chapter
7
(Articles 46–54) is on legal liabilities and the last chapter is supplementary provisions. In addition, provisions issued by the SAIC, NDRC, MOFCOM and SAMR are relevant to understand the procedural rules of the AML.