22.12.2016 | Ausgabe 3/2017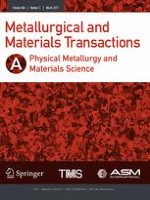 Complexity of Products of Tungsten Corrosion: Comparison of the 3D Pourbaix Diagrams with the Experimental Data
Zeitschrift:
Autoren:

Maryana I. Nave, Konstantin G. Kornev
Wichtige Hinweise
Manuscript submitted April 4, 2016.
Abstract
Tungsten is one of the most attractive metals in applications where materials are subject to high temperature and strong fields. However, in harsh aqueous environment, tungsten is prone to corrosion. Control of tungsten corrosion in aqueous solutions is a challenging task: as a transition metal, tungsten is able to produce a vast variety of oxides and hydrates. To reveal the thermodynamic pathway of corrosion at different conditions, the 3D Pourbaix diagrams relating the reduction potential, pH, and concentration of different tungsten-based compounds were constructed. These diagrams allow one to identify the most thermodynamically stable tungsten-based compounds. The 3D Pourbaix diagrams were used to explain different regimes of anodic dissolution of tungsten in aqueous solutions of potassium hydroxide.