17.01.2017 | Original Paper | Ausgabe 9/2017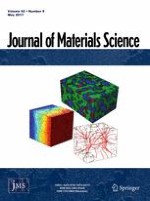 Composites bone cements with different viscosities loaded with a bioactive and antibacterial glass
Zeitschrift:
Autoren:

Marta Miola, Giacomo Fucale, Giovanni Maina, Enrica Verné
Abstract
In this work, three commercial PMMA-based bone cements (high, medium and low viscosities) were enriched with a bioactive and Ag-containing glass to contemporaneously impart bioactive and antibacterial properties. For each formulation, the glass distribution in the polymeric matrix, the bioactivity in simulated body fluid, the silver release, the antibacterial effect and cytotoxicity were evaluated. Morphological and compositional characterizations, by means of scanning electron microscopy and energy-dispersive spectrometry, evidenced good glass dispersion in the polymeric matrix and its appreciable exposition on material surface for all composite cements. The different formulations did not entail the composite ability to induce hydroxyapatite precipitation on their surface (bioactivity) and to release silver ions. The silver release profile was comparable with the rate of infection development; moreover, antibacterial test (inhibition halo evaluation and count of colonies forming units) revealed a significant antibacterial effect towards
S. aureus
strain. Finally, cytotoxicity test, performed using continuous mouse fibroblast L-929, showed none cytotoxic effect of the multifunctional composite cements for all the polymeric matrix formulations.