30.06.2018 | Ausgabe 2/2018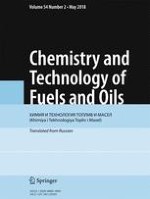 Composition of Shale Oil from Poorly Permeable Carbonate Rocks of Domanikovian Deposits of Dankov-Lebedyan Horizon of Romashkino Field
Zeitschrift:
Autoren:

G. P. Kayukova, A. N. Mikhailova, I. P. Kosachev, N. A. Nazimov, O. S. Sotnikov, A. E. Evdokimov, R. S. Khisamov
Wichtige Hinweise
Translated from
Khimiya i Tekhnologiya Topliv i Masel
, No. 2, pp. 33 – 40, March – April, 2018.
The oil generation potential of low permeability carbonate reservoir rock from the Dankov-Lebedyan horizon of the Domanikovian deposits of the Upper Devonian of the Zelenogorsk area of the Romashkino field is evaluated as a function of content and composition of the organic matter in the reservoir rock and of the composition of the shale oil extracted from the rock by organic solvents. In comparison with the shale oil produced from the carbonate reservoir rock of coeval deposits by hydrofracking of the rock formation, the extracts from the rocks contain more resins and asphaltenes and less saturated fractions predominantly comprised of high-molecular-weight n-alkanes. In model experiments, the influence of the temperatures 20, 250, 300, and 350°C on the conversion of organic matter of the Domanikovian carbonate rock in a carbonic acid hydrothermal system are studied, and the yield and quality of the extracted hydrocarbons are evaluated. It is demonstrated that the thermal effect at 200 and 250°C on the rock facilitates more intense and complete extraction of oil hydrocarbons. Processes of degradation of high-molecular-weight components and insoluble kerogen occur at temperatures above 300°C, leading to an increase in then yield of extracts from the rocks and an increase in them of the content of saturated hydrocarbons whose composition approaches the composition of the shale oil extracted from low permeability carbonate reservoir rock. Results of the investigation provide grounds for suggesting that carbonate rock of the Dankov-Lebedyan horizon contains productive formations that could become an additional source of petroleum hydrocarbons when developed by hydrothermal technologies.