01.04.2014 | Ausgabe 2/2014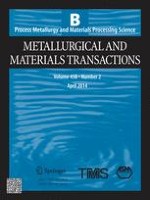 Compositional Fragmentation Model for the Oxidation of Sulfide Particles in a Flash Reactor
Zeitschrift:
Autoren:

Víctor Roberto Parra-Sánchez, Manuel Pérez-Tello, Cirilo Andrés Duarte-Ruiz, Hong Yong Sohn
Wichtige Hinweise
Manuscript submitted April 20, 2013.
Abstract
A mathematical model to predict the size distribution and chemical composition of a cloud of sulfide particles during high-temperature oxidation in a flash reactor is presented. The model incorporates the expansion and further fragmentation of the reacting particles along their trajectories throughout the reaction chamber. A relevant feature of the present formulation is its flexibility to treat a variety of flash reacting systems, such as the flash smelting and flash converting processes. This is accomplished by computing the chemical composition of individual particles and the size distribution and overall composition of the particle cloud in separate modules, which are coupled through a database of particle properties previously stored on disk. The flash converting of solid copper mattes is considered as an example. The model predictions showed good agreement with the experimental data collected in a large laboratory reactor in terms of particle size distribution and sulfur remaining in the population of particles. The cumulative contribution and distribution coefficients are introduced to quantify the relationship between specific particle sizes in the feed and those in the reacted products upon oxidation, the latter of which has practical implications on the amount and chemical composition of dust particles produced during the industrial operation.