2019 | OriginalPaper | Buchkapitel
Compounds or Phrases? Pattern Borrowing from English into Georgian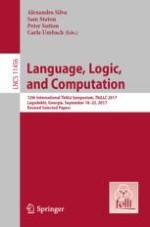 Autoren: Nino Amiridze, Rusudan Asatiani, Zurab Baratashvili
Verlag: Springer Berlin Heidelberg
Abstract
In this paper we investigate a case of borrowing of English noun-noun (
nn
) constructs into Georgian. The phenomenon has been observed lately in Georgian in sequences of two nouns, where the first noun, always marked by nominative, represents the dependent noun and the second is the head of the construct.
In English,
nn
constructs can potentially be analyzed as phrases or compounds. There have been no tests developed for Georgian so far that would help to decide the status of such sequences. We try to address this problem and propose several phonological, morphological, syntactic, and semantic criteria to distinguish compounds from phrases in
nn
constructs. The tests indicate that the borrowed pattern represents compounds in Georgian. This result raises some interesting research questions about category change in pattern borrowing.