17.05.2018 | SPECIAL FEATURE: ORIGINAL ARTICLE | Ausgabe 1/2019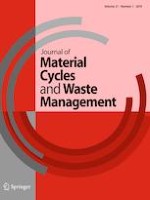 Comprehensive analysis of 942 organic micro-pollutants in settled dusts from northern Vietnam: pollution status and implications for human exposure
Zeitschrift:
Autoren:

Hoang Quoc Anh, Keidai Tomioka, Nguyen Minh Tue, Go Suzuki, Tu Binh Minh, Pham Hung Viet, Shin Takahashi
Wichtige Hinweise
Electronic supplementary material
Abstract
Contamination status of 942 organic micro-pollutants was examined for settled dust samples collected from an informal end-of-life vehicle (ELV) recycling site and an urban area in northern Vietnam. One hundred and ninety-five contaminants including 73 domestic chemicals, 79 industrial chemicals and 43 pesticides were detected at least once in our samples. Total concentrations (median and range) of organic pollutants in dusts from ELV site and Hanoi urban area were 20,000 (5600–93,000) and 21,000 (12,000–26,000) ng g−1, respectively. Pyrethroid insecticides, polycyclic aromatic hydrocarbons (PAHs) and plasticizers were the major contributors to the overall contamination levels. Concentrations of some specific chemical classes such as petroleum alkanes, PAHs, heat storage and transfer agents, and compounds leached from tires in dusts from the recycling area were significantly higher than those from the urban area, suggesting their emission during ELV dismantling and stockpiling processes. Human exposures to selected organic pollutants were also estimated by calculating daily intake doses to evaluate their hazard quotients (HQs). Although almost HQs were markedly lower than the critical value of 1, potential health risk caused by multiple organic contaminants via dust ingestion and other exposure pathways should be considered in future studies.