2006 | OriginalPaper | Buchkapitel
Comprehensive Strategy for HSC Best Performance in Extensive Applications of Landmarkworks in Italy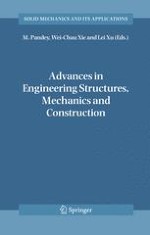 Erstes Kapitel lesen
Autoren: A. Migliacci, P. Ronca, P. Crespi, G. Franchi
Verlag: Springer Netherlands
Centering on worldwidly present urban areas, there have been many high-rise landmark buildings constructed in recent years. It is recognized that reinforced concrete has merit over steel frame construction in high-rise buildings, such as less sway in high winds, better human life protection in case of accidental heavy damage, better noise resistance. The use of high-strength concrete is rising, not only for pillars, in high-rise buildings. The paper points out on the need of classifying the HP-HSC for the different requested characteristic that materials have to exhibit on different structural elements of a complex structure. Among types of concrete, which binds together characteristics of High Strength Concrete (HSC) and High Performance Concrete (HPC), particular reference is made to Limestone Concrete (LSC).
Existing literature provides data on self-levelling, high performance, rapid hardening concrete, able to reach in few days the standard of HPC (Kelham, 1998; Montgomery et al., 1998; Nehdi et al., 1998. In particular the technology here referred for limestone concrete is not the usual one, but it makes reference to a mix design, characterized by an industrially produced limestone aggregates, with total absence of Silica Fume or any other addition of pozzolanic material or accelerating admixture (Cangiano, 2005; Cangiano et al., 2004.
The paper points out the significance of Limestone Concrete, as High Performance Concrete, application, starting from the following key construction requirements: in large public works with characteristic of very high durability, the choice of a technical solution it is not at all dependent on the construction cost only. In fact in this work, life service and safety performances, that slightly increase the construction costs, are of paramount importance. Starting from this key assumption, new materials, and in particular new concretes, may be able to notably cut life service and safety costs, considerably improving the performance/cost ratio of the selected solution, due to the large cut of maintenance costs. The paper wants to briefly explain the state of the art and the today frontier which lead to the material basic choices in structural design of high-rise buildings. In particular the paper refers to a comprehensive campaign of tests, in a starting-up phase, shared among different university and private laboratories in Italy, which aims to draw Guide Lines for different specific uses of Limestone Concrete, as HPC, in different structures typologies and environmental conditions.