01.06.2008 | Ausgabe 6/2008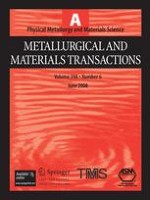 Compressive and Tensile Properties of Tungsten-Continuous-Fiber-Reinforced Zr-Based Amorphous Alloy Matrix Composite Fabricated by Liquid Pressing Process
Zeitschrift:
Autoren:

Kyuhong Lee, Sang-Bok Lee, Sang-Kwan Lee, Sunghak Lee
Wichtige Hinweise
Manuscript submitted December 14, 2007.
Abstract
In the present study, a Zr-based amorphous alloy matrix composite reinforced with tungsten continuous fibers was fabricated without pores or defects by a liquid pressing process; the microstructures and mechanical properties of the fibers were investigated. Approximately 60 vol pct of the fibers was distributed inside the amorphous matrix, although the matrix of the composite also contained a small number of polygonal crystalline phases. The tensile strength of the composite was about 30 pct higher than that of the amorphous alloy, because of the very strong reinforcement of the tungsten fibers and because of the strong fiber/matrix interfacial bonding. The shear fracture of the amorphous matrix was significantly constrained by the fibers, and fracture proceded almost perpendicular to the tensile direction. According to the compressive test results of the composite, fracture did not take place as a one-time occurrence after the maximum strength point, but proceeded as the loading was sustained by the fibers, thereby leading to a maximum strength of 2477 MPa and a plastic strain of 1.5 pct. The fibers played an important role in improving the ductility, by interrupting the propagation of shear cracks initiated at the amorphous matrix and by taking over a considerable number of compressive loads in the area in which the cracks were formed, while the fibers themselves were buckled. These findings suggested that the liquid pressing process was useful for the development of amorphous matrix composites with improved mechanical properties.