01.01.2015 | Ausgabe 1/2015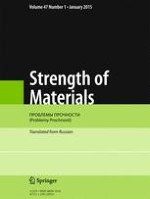 Compressive Properties of SiC Particle-Reinforced Aluminum Matrix Composites Under Repeated Impact Loading
Zeitschrift:
Autoren:

D. F. Cao, L. S. Liu, Q. W. Liu, S. X. Li
Wichtige Hinweise
Translated from Problemy Prochnosti, No. 1, pp. 74 – 81, January – February, 2015.
Under repeated impact loading, SiC particle-reinforced aluminum matrix composites (SiCp/Al) experience severe plastic strains, which can lead to local changes in their microstructure. Microstructural variations have a significant effect on the dynamic behavior of SiCp/Al composites under subsequent impact loading. Their microstructure was analyzed by scanning electron microscopy (SEM). Then the dynamic compressive properties of SiCp/Al composites were studied using the split Hopkinson pressure bar (SHPB), and the dynamic compression stress–strain curve for each impact was plotted. The SEM results revealed that an increase in the impact cycle led to enhanced cracking of particles and interface delamination. The SHPB results showed that the yield stress and flow stress increased significantly for the first three cycles and then remained constant. The material behavior during the first three cycles can be attributed to strain hardening of the metal matrix, while its stability at the subsequent stages is the combined effect of strain hardening of the metal matrix and damage accumulation in the composite.