2012 | OriginalPaper | Buchkapitel
Compromise Scheduling of Bilateral Contracts in Electricity Market Environment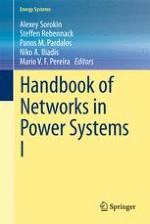 Erstes Kapitel lesen
Autor: Sergey I. Palamarchuk
Verlag: Springer Berlin Heidelberg
Abstract
The paper formulates an electricity delivery scheduling problem in accordance with the bilateral contracts in the competitive wholesale market. Bilateral forward contracts are generally used in electricity markets to stabilize prices and hedge risks of electricity shortage. A contract party is able to draw electricity from the contract and resell it to the day-ahead wholesale and retail markets. Contract parties schedule electricity deliveries over contract period to get the highest profit. The problem solution results in determination of a contract price acceptable for both parties. Normally the contract parties are interested in different delivery strategies during the contract period. A compromise in determination of the delivery strategy implies obtaining the equality of relative concessions from supplier and buyer.
Conclusion of bilateral contracts bears certain risks due to price and demand uncertainty. Both contract parties forecast price levels in the spot market and electricity demand. Both parties estimate expected profits (or losses) from caring out the contract and participation in the spot market. It is important to adjust the contract in time.
The paper formulates optimization problems for contract scheduling. A numerical example demonstrates the efficiency of the algorithm.
The sequence of actions to be performed for contract correction is considered. The statements of optimization problems are given for decision making on contract correction and cancellation. The statements take into account financial compensation to another party in the case of prescheduled contract correction or cancellation. A numerical example illustrates applicability of the proposed procedures for decision making.