2006 | OriginalPaper | Buchkapitel
Computation of cortical bone macroscopic properties from microscopic elastic data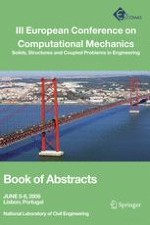 Erstes Kapitel lesen
Autoren: Quentin Grimal, Kay Raum, Pascal Laugier
Verlag: Springer Netherlands
Introduction. Cortical bone is a multi-scale compact tissue with a hierarchical organization. It exhibits both structural heterogeneities (various levels of porosity) and heterogeneity of the elastic properties of the bone matrix. The scales relevant for applications in the field of biomechanics range from the micrometer to the centimeter. Numerical values of the mechanical properties at various scales are needed as input in numerical models of bone such as finite element models widely used in orthopedics and finite difference models used for the simulation of bone-ultrasound interaction. Furthermore, models are required to assess the impact at the macro level of pathologies, age-related changes, and therapies which act at the microscopic level.
The aim of this work is to obtain numerical values for the linear elastic mechanical parameters of cortical bone at a scale of 1mm from a quantitative mapping of structural and elastic data at the microscopic level. The 1mm-scale is considered as macroscopic. In addition, the resolution of 1 mm would possibly be compatible with current computing capacities.
Method. Quantitative acoustic impedance images of eight transverse sections of human radii were obtained with 50-MHz scanning acoustic microscopy (SAM). The resolution of the images is 23 µm. The measured acoustic impedance data were converted into isotropic elastic data at each point of the image [
1
]. For each radius section, between 50 and 60 square regions of 1 mm square were randomly selected and extracted from the impedance images of the cortical shell. Each extracted region was considered as a "virtual" heterogeneous sample. A program was developed to compute the effective stiffness tensor (equivalent homogeneous material) of each virtual sample using displacements boundary conditions. For each virtual sample, the mechanical homogenization problem was solved using the finite element method. Assuming hexagonal symmetry, five engineering elastic constants of an equivalent homogeneous material were derived upon post-treatment of the effective computed stiffness tensors.
Results. The dependence of the elastic constants on porosity and mean elastic value of the bone material around the pores was analyzed. This dependence was used to formulate a phenomenological model of the elastic parameters at the 1-mm scale as a function of local elastic stiffness and porosity.