01.09.2015 | Ausgabe 3/2015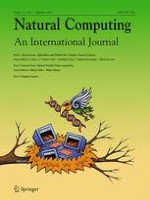 Computation with optical sensitive sheets
Zeitschrift:
Autoren:

Sama Goliaei, Saeed Jalili
Abstract
In this paper, we provide a new optical model for computation, which is named filter machine. Filter machine consists of optical filters as data storage and imaging operation for computation. Each filter is a long optical sensitive sheet, divided into cells. Filter cells may represent different patterns of opaque and transparent cells which are constructed by emitting light to some cells and made them opaque. The computation in filter machines starts from basic filters with basic patterns of opaque and transparent cells. We provide an algorithm that, given a Boolean circuit, produces a filter machine generating output of the circuit for all possible inputs. Thus, we show that the filter machine is able to generate every Boolean function. Indeed, the number of required cells in each filter is exponential according to the number of variables in the given Boolean function. In order to show the efficiency of the model in solving combinatorial problems, we provide a solution for the
k
-clique problem on graphs by filter machines, which requires polynomial time and number of filters but exponential number of cells in each filter.