01.01.2015 | Ausgabe 1/2015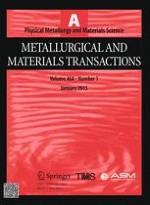 Computational Kinetics Simulation of Precipitation and Dissolution of Gamma Prime (
γ

′) in Heat Treating and Welding of 718plus Superalloy
Zeitschrift:
Autoren:

Bo Wang, Fan Zhang, Weisheng Cao, Shuanglin Chen, Sindo Kou
Wichtige Hinweise
Manuscript submitted December 19, 2013.
Abstract
The evolution of the strengthening precipitate in a precipitation-hardening alloy, such as the gamma prime (
γ
′) phase in Ni-base superalloys, during heat treating and welding can affect the resultant mechanical properties significantly. Computational kinetics simulation can be a useful tool for understanding and controlling of such evolution. The present study was conducted to simulate the
γ
′ precipitation and dissolution during aging and welding of the recently developed Ni-base superalloy 718plus using
the PanPrecipitation
module of the
Pandat
software along with available thermodynamic and kinetic databases. The purpose was to demonstrate the application of such software and databases to materials processing including heat treating and welding. The variations in the volume fraction, average precipitation size, and number density of
γ
′ with time during aging and welding were calculated. The calculated results under aging condition agreed well with the available experimental data, while those under welding also predicted the correct trend.