01.12.2019 | Original Article | Ausgabe 1/2019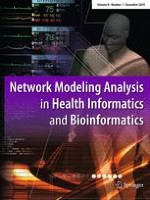 Computational screening and ADMET-based study for targeting Plasmodium
S

-adenosyl-

l

-homocysteine hydrolase: top scoring inhibitors
Autoren:

Dev Bukhsh Singh, Seema Dwivedi
Wichtige Hinweise
Electronic supplementary material
Publisher's Note
Springer Nature remains neutral with regard to jurisdictional claims in published maps and institutional affiliations.
Abstract
S
-adenosyl-
l
-homocysteine hydrolase (SAHH) is a ubiquitous enzyme that plays a significant role in methylation-based processes by maintaining the intracellular balance between
S
-adenosylhomocysteine and
S
-adenosylmethionine. In the past years, some analogs and derivatives of aristeromycin have been reported as a potential inhibitor of
Plasmodium falciparum's
SAHH (PfSAHH), but no effective therapy has been developed yet. In our previous studies, molecular dynamics simulation study of 2-fluoroaristeromycin in complex with PfSAHH was carried out, and a stable complex with favorable binding energy and interaction was observed. In the presented work, 2-fluoroaristeromycin was used as a central compound for finding the vast set of similar compounds using PubChem database search (65 compounds), pharmacophore-based search (1219 compounds) and ZINC database search for biogenic compounds (approximately 1, 82000 compounds). All these compounds were docked with PfSAHH drug target to screen compounds with energetically favorable binding and stable conformation. Binding energy and different ADMET based parameters were used for screening some potential compound from each set. Binding affinity and interaction of top scoring 15 compounds from the biogenic subset were again evaluated using other docking tools such as AutoDock and AutoDock Vina. These top scoring compounds satisfy the binding and most of the ADMET parameters, and their activity can be further optimized to find a more potent inhibitor of PfSAHH.