27.06.2018 | Ausgabe 1/2019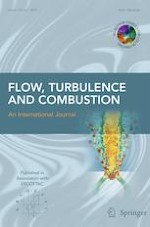 Computational Study of the Velocity Fields and Pressure Differential in a Reynolds-Number-Sensitive Fluidic Resistor
Zeitschrift:
Autoren:

Charles Farbos de Luzan, Rodrigo Villalva, Frederic Felten, Ephraim Gutmark
Wichtige Hinweise
Publisher's Note
Springer Nature remains neutral with regard to jurisdictional claims in published maps and institutional affiliations.
Abstract
In the field of flow control, autonomously regulated valves that exclude any moving parts are extremely reliable, yet research on these devices is sparse. Aiming toward better understanding of their hydrodynamics, our study used a three-dimensional (3D) computational fluid dynamics (CFD) model to describe the velocity fields and pressure differentials in a fluidic device with no moving components and two tangential inlet nozzles that induced swirl within a circular cavity. Specifically, flows at high Reynolds number values (for which inertia dominates) followed the tangential path and resulted in higher pressure loss because of induced rotation within the circular cavity. Flows at lower Reynolds number values followed the pressure gradient toward the outlet and exited the tangential path via radial channels, lowering the overall pressure loss. The distribution of the flow through the various radial passages was calculated for different regimens and correlated to the Reynolds numbers. The observed streamlines and pressure differential trend corroborated the design intent of the Reynolds-Number-Sensitive Fluidic Resistor (RNSFR), which intends to separate different fluids based on their viscosity. Particle image velocimetry (PIV) measurements were performed to validate the computations.