2006 | OriginalPaper | Buchkapitel
Computational study on stability and bone remodeling for a hip replacement using a "minimal invasive" femoral stem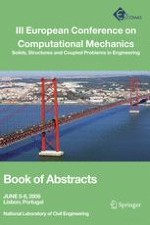 Erstes Kapitel lesen
Autoren: João Folgado, Rui P. Andrade, Paulo R. Fernandes
Verlag: Springer Netherlands
In a total hip artroplasty, femoral head is removed and the stem component is inserted into the femoral canal removing a considerable amount of hosted bone. Recently some manufactures have developed the design of smaller stems for "minimally invasive" hip replacement surgery. These smaller stems require minimal bone removal, leaving intact many elements of fixation that would otherwise be lost in a traditional primary arthroplasty. Furthermore, the maintenance of bone mass is of major importance particularly in the case of a future revision surgery. However, one aspect of major concern with these stems is the fixation and the stability of the stem.
Actually, the stability of the stem plays a role in the success of a cementless total hip artroplasty. In order to assure the long term stability, most of the stems are design to promote biologic fixation, i.e, the bone attachment into the stem surface. The osseointegration (or bone ingrowth) is achieved coating the surface with hydroxyapatite (HA) or simply with a porous coated layer. However, even with such a special coated surfaces, several factors can inhibit or destroy the biologic fixation. Among these factors are mechanical ones such as large displacements and high stresses in the bone/implant interface.
In this work a computational model is developed to study the osseointegration in a cementless femoral stem. The bone ingrowth process is modeled based on the relative displacement between bone and stem as well as on interface stress level. The biological fixation is not dissociated to the remodeling of surrounded bone due to the stress shield effect. Thus the model combines the osseointegration analysis with a bone remodeling model. The law of bone remodeling is derived from a material optimization problem, via the minimization of a function that takes into account structural stiffness and the metabolic cost related with bone mass maintenance, where bone is modeled as a porous material with variable density. The problem considers contact conditions on the interface between bone and implant. During the remodeling process, the mechanical interface conditions are updated according with the ingrowth algorithm: if the displacement and stress conditions necessaries for bone attachment are satisfied, then a connection between bone and implant is established. Consequently, the bone behavior is fully simulated from the immediate post operative condition until a long term condition. The osseointegration process emphasizes the behavior of the bone/stem interface, addressing the problem of stability of the prosthesis.
The model is used to analyzed a "minimal invasive" stem (
Mayo
, Zimmer Inc.) comparing its performance with a conventional one (
Trilock
, Depuy Orthopaedics, Johnson&Johnson). Results allow us to validate the computational model and evaluate the performance of these two distinct stems.