2017 | OriginalPaper | Buchkapitel
14. Computer and Network Forensics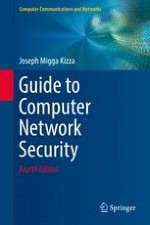 Erstes Kapitel lesen
Autor: Joseph Migga Kizza
Abstract
The proliferation of computer technology, including wireless technology and telecommunication, the plummeting prices of these technologies, the miniaturization of computing and telecommunication devices, and the globalization forces have all together contributed to our ever-growing dependence on computer technology. This growing dependence has been a bonanza to computer criminals who have seen this as the best medium to carry out their missions. In fact, Richard Rubin [1] has called this new environment a tempting environment to cybercriminals, and he gives seven compelling reasons that cause such temptations. They are as follows:
Speed. Both computer and telecommunication technology have greatly increased the speed of transmission of digital data, which means that one can violate common decency concerning transmission of such data speedily and not get caught in the act. Also, the act is over before one has time to analyze its consequences and one's guilt.

Privacy and Anonymity. There is a human weakness that if no one is a witness to an act one has committed, then there is less to no guilt on the doer's part. Privacy and anonymity, both of which can be easily attained using this new technology, support this weakness enabling one to create what can be called "moral distancing" from one's actions.

Nature of Medium. The nature of storage and transmission of digital information in the digital age is different in many aspects from that of the Gutenberg-print era. The electronic medium of the digital age permits one to steal information without actually removing it. This virtual ability to remove and leave the original "untouched" is a great temptation, creating an impression that nothing has been stolen.

Aesthetic Attraction. Humanity is endowed with a competitive zeal to achieve far and beyond our limitations. So we naturally get an adrenaline high whenever we accomplish a feat that seems to break down the efforts of our opponents or the walls of the unknown. It is this high that brings about a sense of accomplishment and creative pride whenever not so well-known creative individuals come up with elegant solutions to technological problems. This fascination and a sense of accomplishment create an exhilaration among criminals that mitigates the value and the importance of the information attacked and justifies the action itself.

Increased Availability of Potential Victims. There is a sense of amusement and ease to know that with just a few key strokes, one's message and action can be seen and consequently felt over wide areas and by millions of people. This sense unfortunately can very easily turn into evil feelings as soon as one realizes the power he or she has over millions of invisible and unsuspecting people.

International Scope. The global reach of cyberspace creates an appetite for greater monetary, economic, and political powers. The ability to cover the globe in a short time and to influence an entire global community can make a believer out of a nonbeliever.

Enormous Powers. The international reach, the speed, and the distancing of one self from the act endow enormous powers to an individual which may lead to criminal activities.