03.08.2017 | Ausgabe 1/2018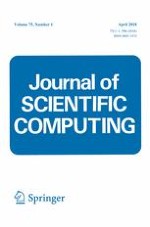 Computing the Level Set Convex Hull
Zeitschrift:
Autoren:

Bilal Abbasi, Adam M. Oberman
Abstract
Quasiconvex (QC) functions are functions whose level sets are convex. The quasiconvex envelope (QCE) of a given function,
g
, is the maximal QC function below
g
. The QCE provides a level set representation for the convex hull of every level set of a given function. We present a nonlocal line solver for computing the QCE of a given function. The algorithm is based on solving the one dimensional problem on lines, which can be done by a fast marching or sweeping method. Convergence of the algorithm is established.