05.10.2017 | Original Paper | Ausgabe 7/2018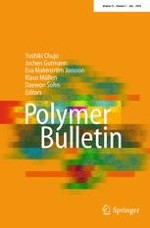 Concentration-dependent behaviors of ZnO-reinforced PVA–ZnO nanocomposites as electron transport materials for OLED application
Zeitschrift:
Autoren:

R. Kandulna, R. B. Choudhary
Abstract
The laboratory synthesis of pure PVA and PVA–ZnO nanocomposites of varying concentrations was synthesized via co-precipitation and in situ techniques, respectively. The formation of PVA and PVA–ZnO nanocomposites and the corresponding changes in their structural properties were examined using X-ray diffraction (XRD) and Fourier transform infrared (FTIR) spectroscopic techniques. The FESEM images displayed regular distribution of ZnO nanowires in PVA matrix. The UV–Vis absorption spectra showed that the direct band gap (
E
g
) decreased with the increase in ZnO concentration. The UV–Vis spectra also indicated the shifting towards blue–green region for higher ZnO concentrations. The optimized direct band gap was estimated around 2.985 eV duly associated with the p-type conductivity. The photoluminescence (PL) study revealed optimum intensity for 5:2 ratio of PVA:ZnO nanocomposites and blue emission (470 nm) varied with the increase in ZnO concentration. The atomic force microscopy (AFM) study showed that RMS roughness of the nanocomposites increased with the increase in ZnO concentration. The enhanced current density (~ 237.83%) in the visible region and reduced optical band gap with relatively higher electron–hole non-radiative recombination rate was in good agreement with the data for electron transport layer material for organic light emitting diode (OLED) application.