01.03.2011 | Original Article | Ausgabe 5/2011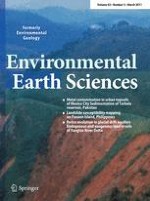 Concentration trends and water-level fluctuations at underground storage tank sites
Zeitschrift:
Autoren:

Alan E. Kehew, Patrick M. Lynch
Wichtige Hinweise
Electronic supplementary material
The online version of this article (doi:
10.​1007/​s12665-010-0583-6
) contains supplementary material, which is available to authorized users.
Abstract
Concentration trends of monitor wells utilized in monitored natural attenuation at petroleum underground storage tank sites can be used to predict achievement of regulatory standards if the data approximate a first-order decline trend. However, declining concentration trends often display seasonal and other fluctuations that complicate trend interpretation. Seasonal correlations between concentration and water-level elevation, including in-phase and inverse relationships, constitute one of the most common types of variation. The in-phase fluctuations are most common for monitor wells located in or near the source area of the release. This relationship may be the result of increased contact with the smear zone in the source area during periods of high water table. Conversely, inverse trends of water-level elevation and concentration are most common in downgradient wells beyond the limit of the source area. In a year long study of short-term fluctuations in BTEX and other parameters in a downgradient monitor well, the data suggest that the winter/spring recharge event significantly controls the concentration trends of BTEX as well as inorganic compounds in the well. Recharge and associated water table rise began in late fall and were soon followed by a slug of inorganic ions strongly influenced by road salt application. This slug of recharge diluted the concentrations of petroleum compounds and alkalinity (bicarbonate). Electron acceptors including oxygen, nitrate, and sulfate, which is a component of road salt, are also contributed to the water table during recharge. Oxygen and nitrate were not detected in the monitor well samples and were most likely consumed quickly in biodegradation reactions at the top of the contaminant plume. Sulfate peaked during winter/spring recharge and then slowly declined during the summer and fall, along with redox potential. Alkalinity (bicarbonate) increased during this period, which may represent the coupled oxidation of organic carbon to CO2 with sulfate as the electron acceptor. BTEX concentrations peaked in the fall probably due to the lack of diluting recharge. The slow changes in concentration over the summer and fall months, interpreted to be caused by biodegradation, contrast with the rapid changes associated with dilution during the recharge event.