2020 | OriginalPaper | Buchkapitel
Conception of Modular Test Stand for Fatigue Testing of Aeronautical Structures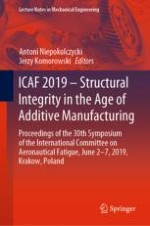 Erstes Kapitel lesen
Autoren: Andrzej Leski, Wojciech Wronicz, Piotr Kowalczyk, Michał Szmidt
Abstract
Fatigue tests of specimens and components are a necessary part of structural development in aerospace but they are expensive. It can be a problem especially in the case of low cost projects or students researches. Most of them are conducted on testing machines with simple specimens, usually with loads limited to tension mode.
The paper presents the Modular Test Stand which was design and developed to decrease the cost of fatigue tests and to test specimens with more complex load condition. The stand consists of three identical sections which are structures similar to the airframe, namely the wing box. Sections are connected, and during a test are loaded in the same manner by bending or twisting moment. The whole section structural node, a particular joint or a skin can be an object of testing.
Based on FE calculations, the design of the stand was developed. The desired requirement were uniform stress distribution in skin panels and axial stress level during bending equal to 100–120 MPa. Two stands were constructed - one for bending and one for torsion. Displacements and shearing strains were measured in the central part of the middle skin panel during torsion with the use of Digital Image Correlation method. The measurement correlated very well with FE calculations and confirmed uniform strain distribution in the panel.
The stand can be used to examine joining methods, materials but also structures with damages or repairs as well as various types of SHM sensors. The main advantage is a possibility of testing up to six specimens at the same time (double side of three sections) which reduces the cost of a single test. Additionally, a more complex load state can be achieved compare to simple specimens.