Erschienen in: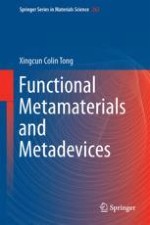 2018 | OriginalPaper | Buchkapitel
1. Concepts From Metamaterials to Functional Metadevices
Abstract
Metamaterials are originally structured as an artificial electromagnetic media, which has developed as a novel approach for engineering the electromagnetic response of passive micro- and nanostructured materials by engaging resonance excitations. This concept is gradually extended to optical, acoustic, thermal, mechanical metasystems, and so on. In each metasystem, the application target is shifting toward achieving tunable, switchable, nonlinear, and sensing functionalities to form relevant metasurfaces and metadevices. This chapter will give a brief review about the concept of evolution from metamaterials to metadevices, focusing on photonic, terahertz, and microwave electromagnetic metamaterials as well as relevant metadevices with functionalities attained through the exploitation of phase-change media, semiconductors, graphene, carbon nanotubes, and liquid crystals. The metadevices encompass microelectromechanical ones and others engaging the nonlinear and quantum response of superconductors, electrostatic, and optomechanical forces, along with nonlinear metadevices incorporating lumped nonlinear components.