2020 | OriginalPaper | Buchkapitel
2. Conceptual and Methodological Premise: Breaking Silos Into the Legal Domain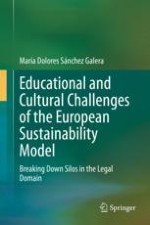 Erstes Kapitel lesen
Autor: María Dolores Sánchez Galera
Abstract
The notion of sustainability has been widely discussed in the last two decades. This chapter briefly sums up these debates and tries to present a new concept that combines the prevailing normative perspective and new contents from other fields, particularly from education and culture. Today's sustainability discussions should suggest theoretical frameworks that provide new (or old) epistemologies that empower people and help policy action to face challenges which are mostly global, interconnected and systemic (see Sect.
2.1
). The world needs more than ever deep cultural transformations, awareness and civil society engagement to preserve planet Earth for future generations in the Anthropocene but there has been little engagement of legal scholarship in alternative interdisciplinary dialogues dealing with education and culture as part of sustainability. Under these premises, the role of law cannot be any longer disconnected from other knowledge systems and should redesign legal and institutional intervention allowing future generations 'access' to justice nurturing bottom-up approaches best operationalised from cultural and educational realms (see Sect.
2.2
). New methodological and integrated approaches are prevailing today, while sustainability science has also emerged as a scientific field departing from traditional academic approaches and breaking silos into the existing scientific domains. This does not imply dismissing the role of specific knowledge fields: it means that fields such as legal science should reflect the new systemic thinking of contemporary science (see Sect.
2.3
).