2017 | OriginalPaper | Buchkapitel
10. Conclusion: An Effective Global Player?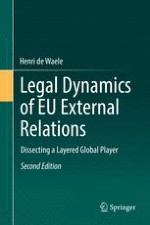 Erstes Kapitel lesen
Autor: Henri de Waele
Verlag: Springer Berlin Heidelberg
Abstract
This final chapter draws together the main threads from the preceding analyses, and reflects on the substantive evolution of the policies in the different layers across time and space. It first paints a picture of the gestation period of the legal rules, which has resulted in a polychrome set of norms that nowadays displays a substantial internal coherence. This dynamic is subsequently contrasted with the political realities, whereby some structural tensions between the institutions, between the Union and its Member States, as well as between the EU and its international partners, are highlighted. Hereafter, hypothesising that the suboptimal performance of the Union may be ascribed to the suboptimal design of the legal framework, a brief inquiry is made into possible modifications that could increase the Union's overall efficacy. While taking note of the deficiencies that are likely to continue to hamper its activities, the chapter concludes by underscoring the favourable results achieved by the EU in the various capacities in which it has manifested itself on the global scene.